Embedding Videos
You can add videos from YouTube or Vimeo into your Aurora site. The process is the same for either site.
To do so:
Copy the URL of the video
Paste it into either the visual editor or the text editor. It does not matter which.
Add an embed shortcode before it, and a /embed shortcode after it. For example:

Uploading Videos
Alternately, you can upload a raw MP4 or OGG video file, and use the 'Add Media' button to add it to a page.
Warning: You only get so much space on an Aurora site, and videos can be quite large. You may want to reconsider adding long videos or HD videos.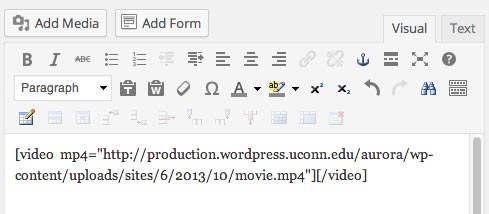 This will produce the following result:
---