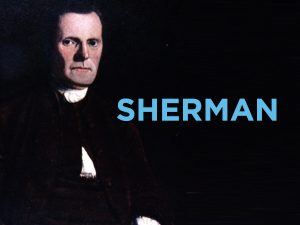 Sherman became the new default theme for all Aurora sites upon its release in August 2014. It features a number of enhancements over Hale, the previous default theme, including:
Page Builder for the homepage
Improved Typography and Design with more white space.
Improved features for accessibility. Specifically, removes styles from elements within tables, and scans pages for missing alt tags on images.
Sherman is a child theme of Cornerstone, and utilizes SASS to be as lightweight as possible. Its design is bold, yet clearly a product of the university. It is named after Roger Sherman, Connecticut's representative to the Continental Congress, and one of the Founding Fathers.
Features
Link Flags
All links to external sites are marked with an icon.
All links to downloadable files like PDFs or DOCs are marked with an icon.
Accessibility Enhancements
Scans images for missing Alt tags, and adds an error message if one it missing.
Strips styles out of tables to discourage the use of tables for presentation layouts.
Accessibility
With Sherman, we've tried to improve our web accessibility with these features:
Skip Links
Visible only to screen readers, these links allow users to skip to the navigation or content.
Table Formatting
To discourage the practice of using html tables to layout pages, new styles have been put in place to remove all styles from any element in a table cell. Headings, paragraphs, bullet lists, and more all become plain black text.
Alt Tag Checker
Each image on a page is scanned, and if it's missing an Alt tag, you'll see the image grayed out, set to 50% opacity, and an error message will appear asking you to please add an Alt tag.