Layout and Other Theme Options
Go to Appearance > Themes and select the Customize link. From here, you have the following options:
Site Title & Tagline
Here, you can change the name of your site as it appears in the top bar. The tagline is not currently used in the system.
Template Options
Here, you can choose what kind of homepage layout you'd like, and choose to include a School, or College in your top bar.
Navigation
Here, you can choose which Menu will appear as the main navigation for the site. You can probably leave it as is. To edit your navigation, see the Navigation guide.
Static Front Page
If you'd like to switch from a traditional site layout to a blog, select "Your latest posts".
After you've finished customizing, hit save in to top right corner of the side panel, and those changes will appear on the site.
Homepage Content
Go to Appearance > Widgets. From here, you have the following:
Available Widgets
This is the library, the repository of possible widgets you can use in your site. To add widgets to the Sidebar, or a Home section, drag it in. The change happens immediately. Some widgets will need to to have some settings configured before they work fully.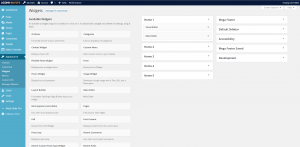 Inactive Widgets
Located below Active Widgets, you can use this to "save" a widget and it's settings. If you switch themes, some of your widgets may end up here.
Sidebar
Widgets placed in the Sidebar will appear on the "News" page, the search results page, the archives page, and pages that use the 'Default w/Sidebar' page template.
Home1-Home5
These sections correspond to the different areas of a homepage layout. They will always start form the top left, and then wrap down to a second line.